Join us for National Principals Month as we continue to celebrate our amazing administrators! Today, we highlight Mr. Mike Speer, principal of Marine Elementary School! Thank you for all you do to make Triad a special place to learn! #TriadProud #ThankAPrincipal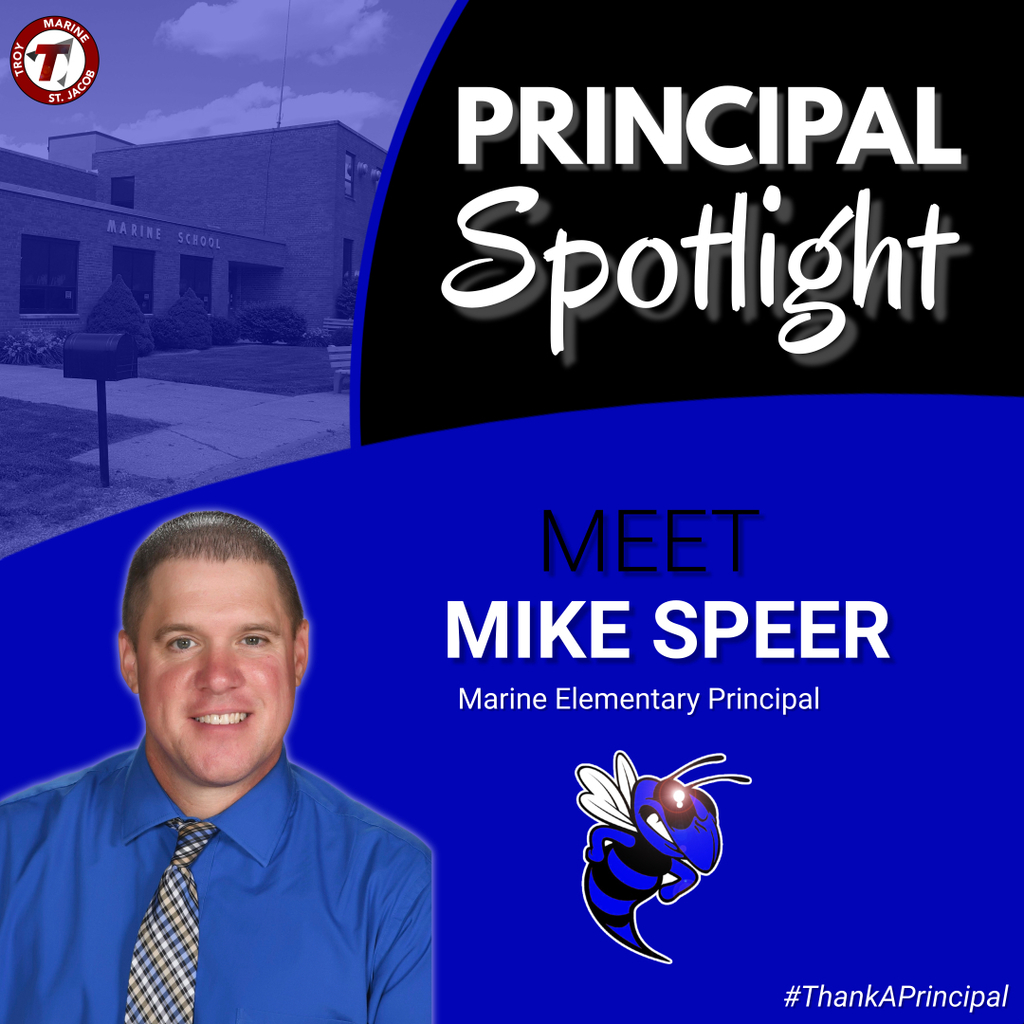 Join us the month of October for National Principals Month as we celebrate our amazing administrators! Today, we highlight Dr. Jay Simpson, principal of St. Jacob Elementary School! Thank you for all you do to make Triad a special place to learn! #TriadProud #ThankAPrincipal

Triad will be holding a substitute training on October 20. The training is open to first-time Triad substitutes with an IL Professional Educator License, substitute license, or individuals seeking a short-term substitute license. To obtain a short-term substitute license, you must have an associate's degree or have completed at least 60 hours of credit from a regionally accredited institution of higher education. All substitutes with a short-term license employed by the Triad district must attend training before they are able to accept substitute jobs. The training will cover the following topics: curriculum, classroom management, school safety, district/building operations, technology, and time to review the application process for substitutes. The next training will be held Wednesday, October 20 at Triad's Central office: 203 E. Throp St. Troy, IL 62294 from 8:30 – 12:00. Each participant will receive a half-day substitute pay for attending the training after being hired by the Board of Education and substituting at least one day for the Triad School District. If you have any questions, please do not hesitate to contact the Triad Central Office. Questions can be directed to Amy Van Hoose at
amy.vanhoose@tcusd2.org
or 667-5400 x1215. TO REGISTER FOR THE OCTOBER 20TH TRAINING CLICK HERE:
https://bit.ly/Triadsubstituteoct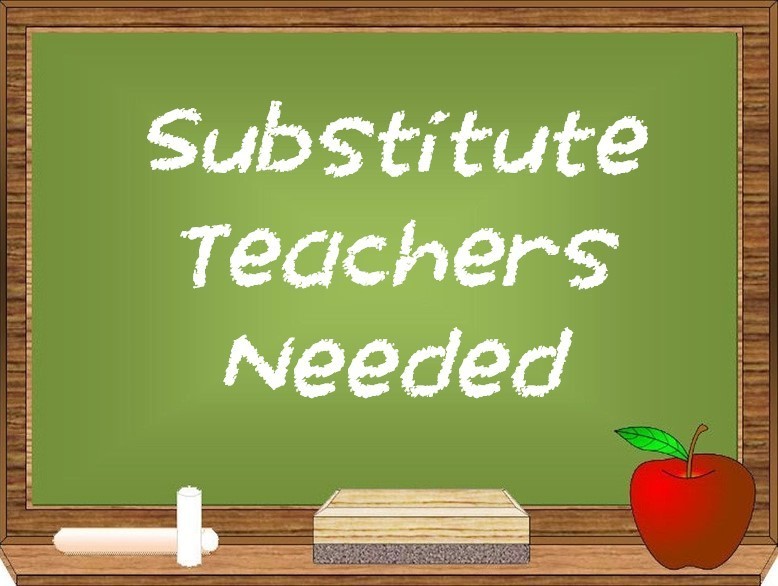 COVID-19 Vaccination Clinic September 30, 2021 @ Triad High School 3:30 PM - 7:30 PM Pfizer Vaccine Anyone 12 or older are eligible for this vaccine! Parent/Guardian must accompany minors 12-17 years old. Appointments Preferred, Walk-Ins Welcome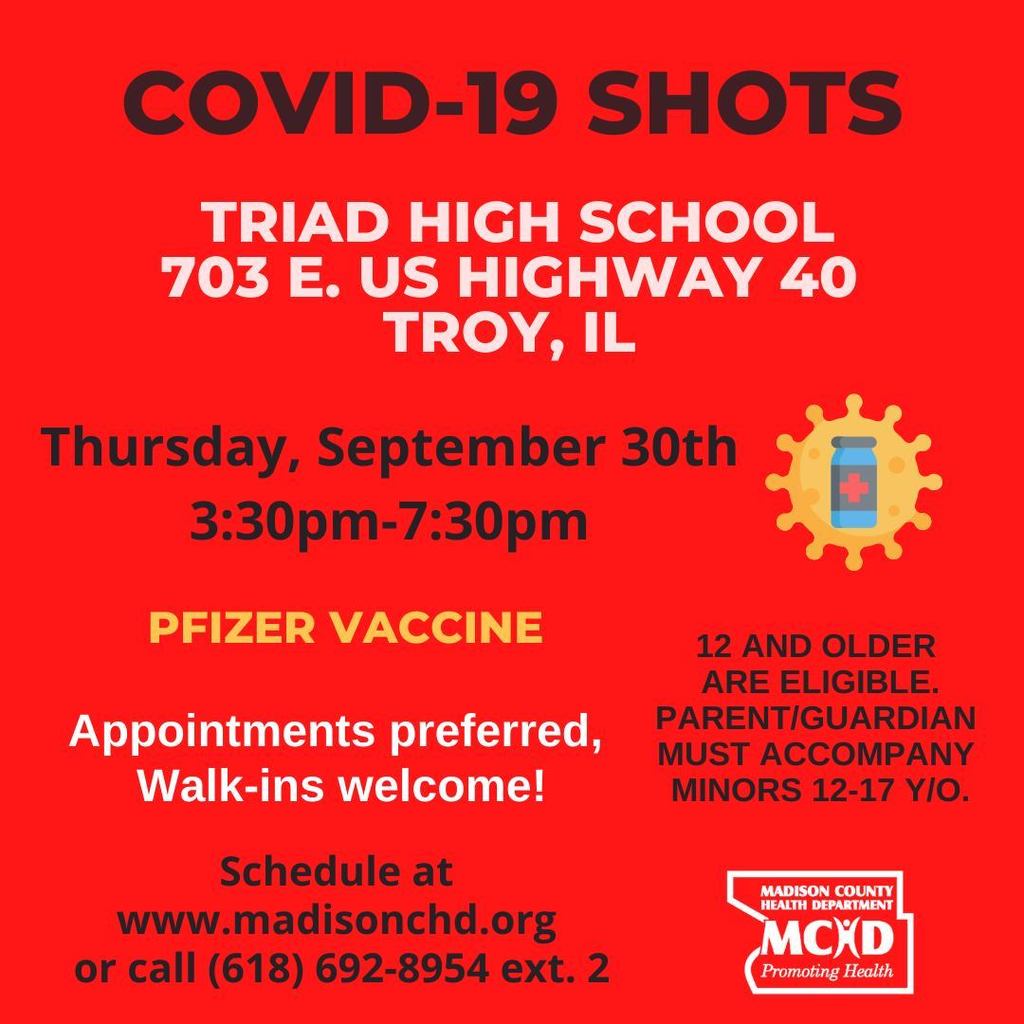 The Board of Education meeting for tonight, Monday, September 27th has been moved to Triad High School's Cafetorium. The meeting will begin at 6:30 PM.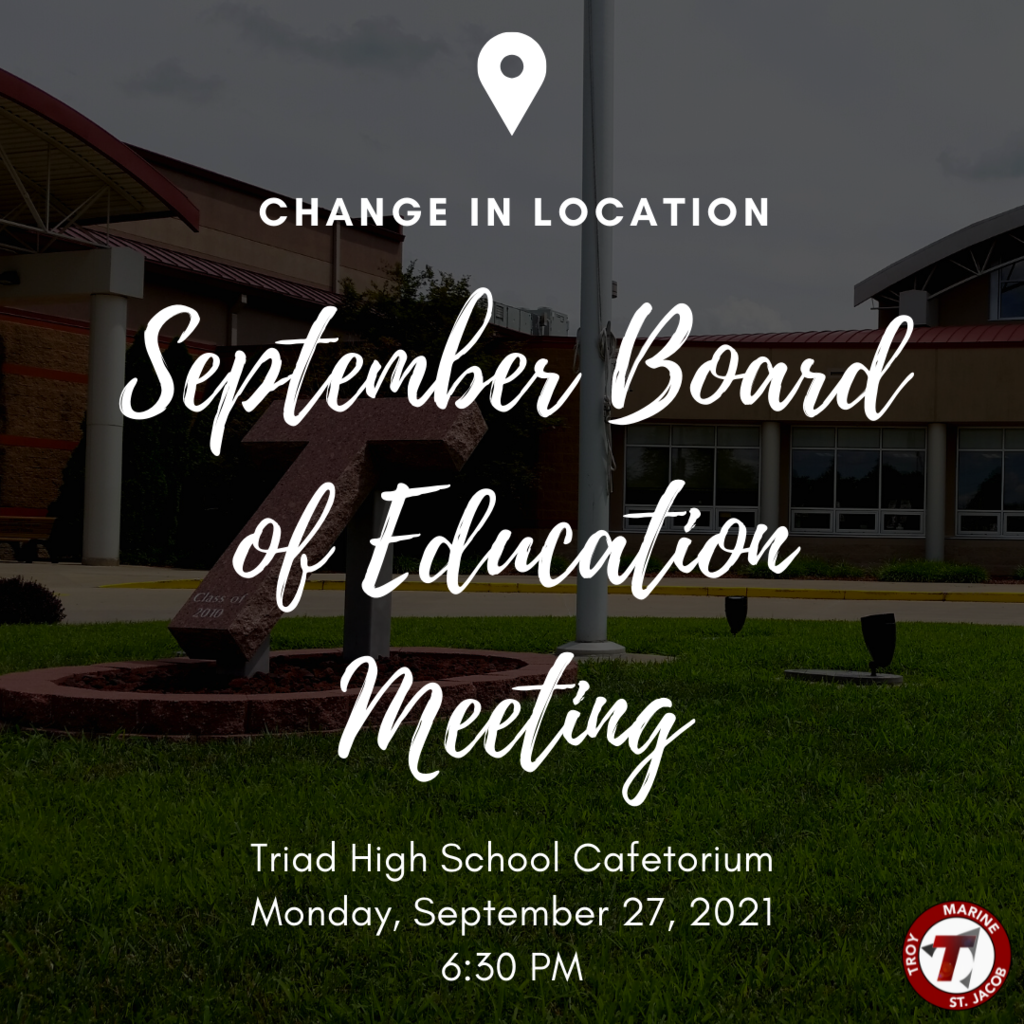 There is no truth to the rumor that the Triad District is moving students into a remote learning setting. As this school year has begun, the district's primary goal has been to keep learning in-person while keeping students and staff safe. That goal has not changed. At this time, moving to a remote learning setting is not being considered.

Triad Strong is a new organization that is committed to helping students, staff, and families in the Triad District during times of difficulty. One of the first events of Triad Strong will be a 5K held on November 13, 2021 at Silver Creek Elementary School. More information can be found on our website or you may contact Triad Strong at
triadstrong@tcusd2.org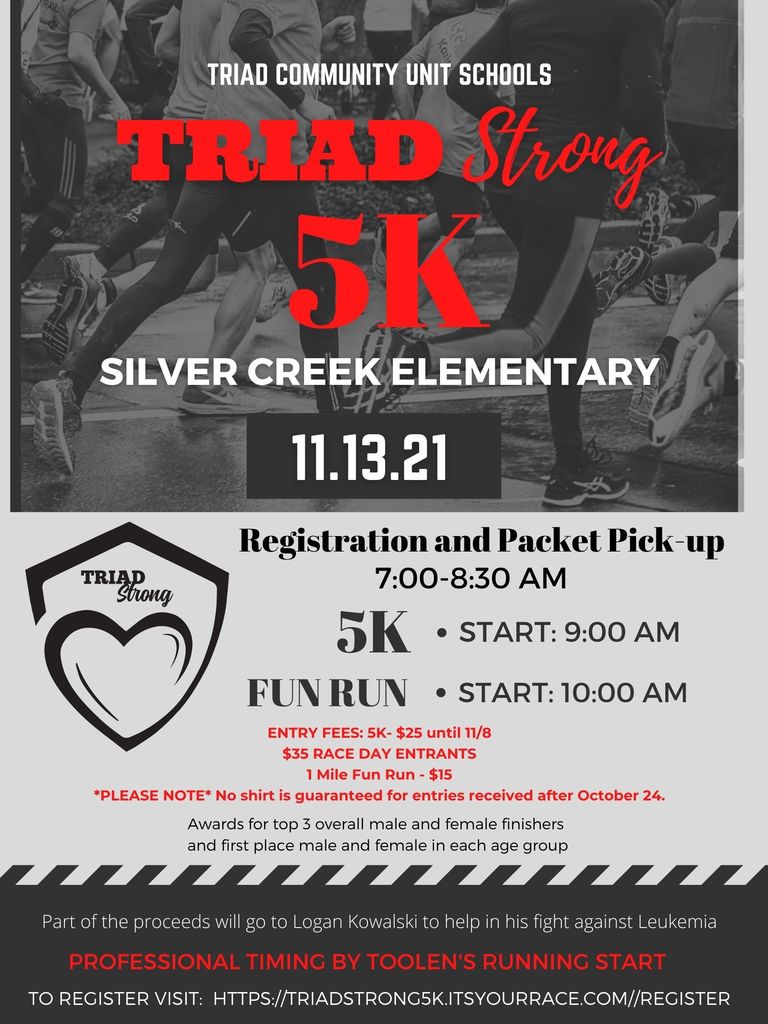 Thanks to the Eaton Corporation and their staff who donated $490 in school supplies to Triad students on 8/26. We appreciate the Eaton Corporation and the Troy/Maryville/St. Jacob/Marine Chamber of Commerce for coordinating this effort.

Have a safe and happy Labor Day!!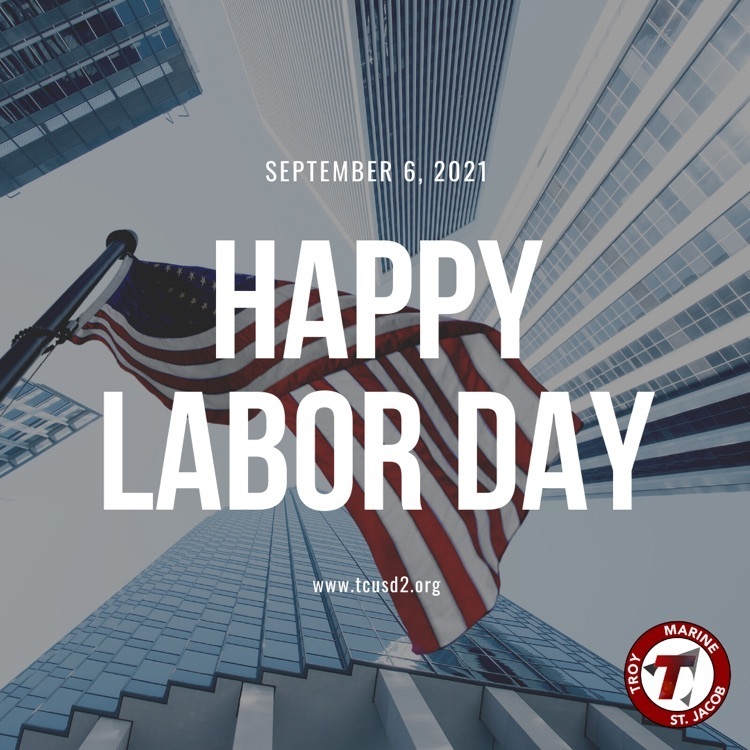 All district phone numbers listed below have been restored and can be reached once again.

It has been brought to our attention that we are unable to receive calls from outside the district. Calls are fortunately still able to be made out from the schools. Please call 618-477-5889 to reach the Central Office should you need to reach your child's school. This is a developing situation which will be updated as further details are available.

Marine Elementary Families, I am emailing to make everyone aware that we currently do not have water at school. We are in the process of getting water bottles here for the kids and our district maintenance team is bringing water to allow us to flush toilets. Unfortunately, the water company does not have an estimated time of repair. If you are able to come and pick up your child from school, this will be an excused absence today. If you are not able to pick up your child, we will keep them here until the end of the school day with our maintenance plan to manage restroom usage. Also, please note that Beyond the Bell students that stay at school today will take a bus to St. Jacob at 3:20 and pick up will take place there. Thank you for your understanding, Mike Speer

The Board of Education meeting for Monday, August 23, 2021 has been moved to Triad High School's Cafetorium. The meeting will begin at 6:30 PM.

While we are working with our service provider to restore phone service, in case of an emergency, you may call 618-477-5889 to reach the Triad CUSD #2 Central Office.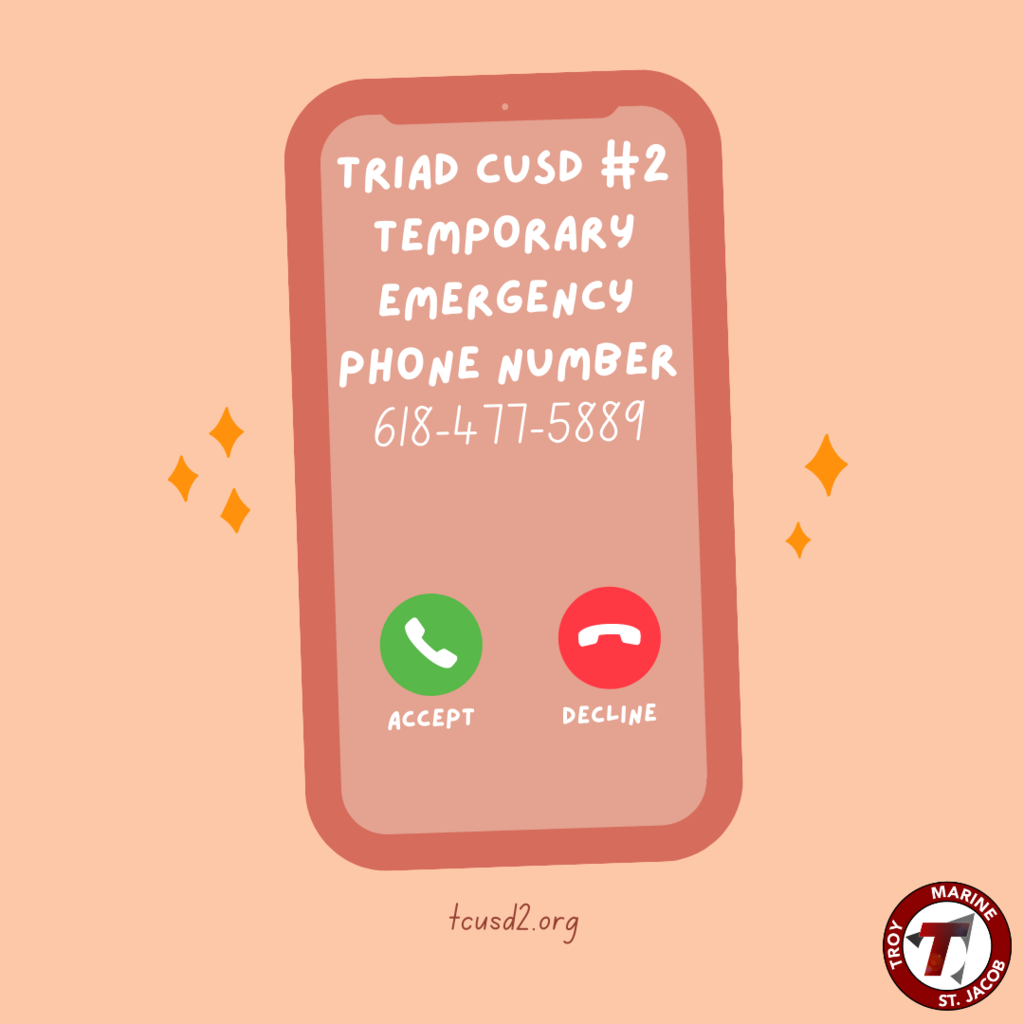 The phone lines to all district buildings are currently down. We are working with our service provider for restoration. We will provide an update as soon as one is available.


​Triad CUSD #2 is launching a stakeholder engagement process to help determine how it should potentially spend additional federal dollars to address unfinished learning and COVID-19 recovery. It is a requirement that Triad engages in consultation with its community stakeholders and provides the public an opportunity to provide input in the development of the ESSER III Grant. The American Rescue Plan was signed into law in March 2021 by President Joe Biden included $122 billion in Elementary and Secondary School Emergency Relief (ESSER) funds for school districts across the country, which is the single largest investment in federal elementary and secondary education in the nation's history. Triad CUSD #2 is slated by ISBE to receive some of that additional funding. All parents, district employees, students, and community members are urged to complete a survey to help the district determine what to prioritize with the potential ESSER funds. School districts are limited to what they can use ESSER funds to support. Input from respondents is requested to be completed by 12 PM, August 25, 2021. Click on the news story on our website to take the survey. Thank you for your input!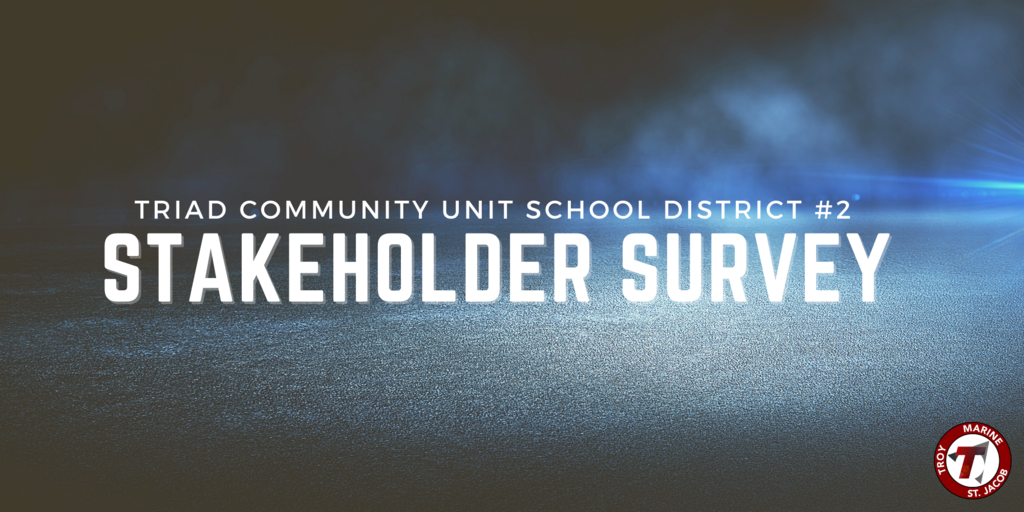 Triad CUSD #2 is hosting a COVID-19 Vaccination Clinic tomorrow August 18th, 3:30-7:30 PM at Triad High School. The Pfizer vaccine will be given. 12 and older are eligible with a parent/guardian in attendance with the minor. Appointments are preferred, walk-ins welcome.


Triad will be holding a substitute training on August 31. The training is open to first-time Triad substitutes with an IL Professional Educator License, substitute license, or individuals seeking a short-term substitute license. To obtain a short-term substitute license, you must have an associate's degree or have completed at least 60 hours of credit from a regionally accredited institution of higher education. All substitutes with a short-term license employed by the Triad district must attend training before they are able to accept substitute jobs. The training will cover the following topics: curriculum, classroom management, school safety, district/building operations, technology, and time to review the application process for substitutes. The next training will be held Tuesday, August 31 at Triad's Central office: 203 E. Throp St. Troy, IL 62294 from 8:30 – 12:00. Each participant will receive a half-day substitute pay for attending the training after being hired by the Board of Education and substituting at least one day for the Triad school district. If you have any questions, please do not hesitate to contact the Triad Central Office. Questions can be directed to Amy Van Hoose at
amy.vanhoose@tcusd2.org
or 667-5400 x1215. TO REGISTER FOR THE AUGUST 31ST TRAINING CLICK HERE:
http://bit.ly/subforTriadFeb