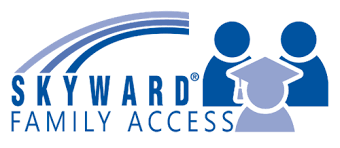 Student meal accounts are now managed through Skyward Family Access Food Service. Prepay for meals and make online payments on balances with a credit or debit card, conveniently, safely, and securely. Meals can also be purchased onsite at any of our school's cafeterias with cash or a check.
Skyward Family Access enables you to view your student's account activity, including onsite payments, current balance, and a detailed history of meal and food purchase items (meal statement), beginning in September 2019.
Easy Steps to Using Skyward Food Service:
Sign onto your Skyward Family Access account.

Select the "Food Service" tile for the appropriate student.

Select the "Pay with RevTrak" link located in the upper right corner.

You will be directed to a separate payment screen. (Note: The first time you use this feature you will need to create an account in the credit card processing software, RevTrak, and then once your account is created, you'll need to verify the account by re-entering your Skyward user name and password. This is a one-time step)

Select the amount you'd like to pay (you can choose one of the prefilled amounts or enter another dollar amount of your choice.

Enter your credit card information and submit.

Payments/deposits to student accounts will not be reflected on your student's meal account until 8:00 PM each evening.
A 3.6% convenience fee applies to all online transactions.

If you choose not to use Skyward Family Access and Revtrack for credit card transactions, the District continues to accept cash and checks at each school cafeteria. Students can bring their deposit to their classroom teacher in the mornings and accounts will be manually updated by food service employees. We appreciate receiving these transactions in envelopes with the child's name and teacher clearly printed on the outside.
If you have any questions about this, please contact the Sodexo Food Service staff at the Triad Central Office Building. 667-8851 x1211.